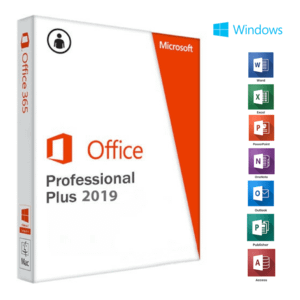 Version

2019

Download

6

File Size

3.44 GB

File Count

1

Create Date

November 22, 2021

Last Updated

November 25, 2021
Office 2019 win X86 X64
Microsoft Office Professional Plus 2019
Microsoft 2019 Professional Plus is the leading business suite worldwide. In this new version of Office 2019, all of the programs have been updated with more powerful features and better cloud integration, making it easier for you to accomplish more in less time. Word 2019, Excel 2019, PowerPoint 2019, Access 2019, Publisher 2019, and Outlook 2019 are all here in Office 2019. Take your documents and presentations to the next level. With Microsoft Office 2019 Professional Plus, you get everything you need for business, This major upgrade of Office has new features in every application. These new features enhance productivity, help you better analyze your data, and stay on top of the game in today's fast-paced work environment
Office 2019 includes the following Office products:
Word 2019
Excel 2019
PowerPoint 2019
Publisher 2019
Outlook 2019
Access 2019
Skype for Business
What's changed in Office 2019?
The biggest change since Office 2016 is that the installation technology used by the new volume licensed versions of Office is Click-to-Run, instead of Windows Installer (MSI). Click-to-Run has been the installation technology for most Office products since the release of Office 2013.
In addition to Click-to-Run, the following are some other changes that you need to be aware of:
Office 2019 is supported on Windows 10 but isn't supported on Windows 7 or Windows 8.1. For more information, review the system requirements.
To configure and perform installations, you use the Office Deployment Tool, which is a free download from the Microsoft Download Center. The Office Customization Tool that you previously used for Windows Installer (MSI) is no longer used.
Instead of downloading the installation files from the Volume Licensing Service Center (VLSC), you use the Office Deployment Tool to download the installation files directly from the Office Content Delivery Network (CDN) on the internet.
When you install Office Professional Plus 2019, all apps are installed by default. But, you can configure the Office Deployment Tool to exclude certain apps from being installed.
Office 2019 is installed on the system drive, which is usually the C: drive. The installation location can't be changed.
Updates to Office 2019, such as security updates and bug fixes, can be configured to be automatically downloaded and installed from the Office CDN. Individual downloads for each security update or bug fix aren't available.
What are the new features in Office 2019?
For information about the new features in Office 2019, see the "what's new" articles for Access, Excel, Outlook, PowerPoint, Project, Visio, and Word. Office 2019 includes these features:
Classic versions of the Office apps installed on one PC or Mac: Outlook, Word, Excel, PowerPoint, Publisher, and Access
OneNote: Access to additional OneNote features (features vary)
Web versions of Word, Excel, and PowerPoint
Be more productive by communicating and collaborating easily with others in different locations with Skype for 

Business 

Administrators can centrally control computers and user accounts with group policy
Administrators can deploy software to many users at once with volume activation
Take control of a remote computer or virtual machine over a network connection with terminal services
Make decisions with app telemetry, an automated remote measurement and collection of data that you can turn into useful analytics
Archive email right from Outlook—no .pst files needed—and set retention policies that automatically archive or delete email. IT admins can centrally manage the In-Place Archive and eDiscovery. Prevent loss of sensitive data via email with Outlook Policy Tips and Exchange Data Loss Prevention. Scan spreadsheets for errors and inconsistencies with Inquire in Excel, and view audit trails with Spreadsheet 

Compare 

Streamline integration and manipulation of large volumes of data from various sources and perform rapid analysis using Power Pivot native in Excel. Explore different cuts and views of data in a click in a pivot table or pivot chart. Compile data, charts, and graphs into a single, interactive Power View
Place voice calls using the Lync client or Skype for Business client, initiate a call from the contact list by typing a name or number, or use a dial pad to initiate PSTN calls. Easily switch a call between devices, park calls, access voicemail from the Lync client or Skype for Business client, and use Enterprise Voice features under

VDI 

Safeguard digital information from unauthorized use through integration with Windows Rights Management Services (RMS) for Windows 

Server 

Easily communicate with others in different locations or time zones using familiar Office tools and Skype for

Business 

Increase collaboration and improve team productivity with site mailboxes. Access project-related email in Exchange and documents in SharePoint, all from within Outlook, with access restricted to team members who have the right 

permissions 
How do I upgrade to Office 2019?
We recommend that you uninstall existing versions of Office before you deploy Office 2019. If you're uninstalling previous versions of Office products that were installed with Windows Installer (MSI), the Office Deployment Tool can remove most of those for you as part of the installation of Office 2019. For more information, see Remove existing versions of Office before installing Office 2019.
Additional information
Office Professional Plus 2019 includes Access, Excel, Outlook, PowerPoint, Publisher, Word, and Skype for Business.
There isn't a 2019 version of OneNote, but OneNote 2016 is available for Office 2019. For more information, see Deployment guide for OneNote.
All products in the Office 2019 are available in both 32-bit and 64-bit versions. We recommend 64-bit on computers that have 4 gb or more of memory. But you should assess application compatibility and other factors that might require you to use the 32-bit version. For more information, see Choose between the 64-bit or 32-bit version of Office.
After downloading the installation files, internet access isn't required to install, activate, or use Office 2019.